Ford AV is an authorized Crestron UC partner and America's leading AV integrator for business web conferencing.  Our partners include Apple, American Airlines, JP Morgan Chase, ExxonMobil, State Farm, and more. Trust our technology experts to design, install, and service your next Crestron Flex system!  Contact a Ford AV technology specialist today.
Intelligent Solutions for Every Space in the Modern Workplace. One Platform for the Entire Enterprise.
Creston Flex natively supports the most popular third-party UC applications including Microsoft Teams™, Skype® for Business, and Zoom™.  Contact a Ford AV technology specialist to start.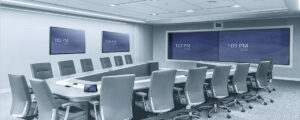 Simple. Secure. Scalable. Consistent.
Crestron's open Unified Communications & Collaboration Solutions natively support the most popular third-party UC applications including Microsoft Teams™, Skype® for Business, and Zoom™. Built on the Crestron XiO Cloud™ IoT-based platform, you can deploy, manage, monitor, and evolve up to thousands of Crestron devices from a single dashboard. Crestron UC and collaboration solutions come in several forms, but all bring a consistent user experience, regardless of the type of space in which they're deployed. That means more uptime and less strain on your support resources. Crestron also uniquely provides capabilities beyond the typical UC solutions, including digital signage, wireless presentation tools, advanced space analytics, networked audio and video distribution, and room scheduling integration.
Crestron also uniquely provides capabilities beyond the typical UC solutions:
Digital Signage
Wireless Presentation
Advanced space analytics
Networked audio and video distribution
Room scheduling integration

Wireless Presentation Made Easy
Content sharing enhances communication, collaboration, and creativity, helping your organization be more efficient and productive. Crestron AirMedia 2.0 wireless presentation technology makes it easy. Meeting participants can sit or stand anywhere in a room or space and securely connect their laptops and smart devices to the display, regardless of OS. AirMedia 2.0 is built into the Crestron Flex M100 and is also available in standalone devices that enable you to transform lobbies, lounges, and other open spaces into productive meeting spaces. Beyond presentation capabilities, all AirMedia 2.0 devices support Appspace® software for digital signage needs, and connect to popular calendaring systems to show space availability.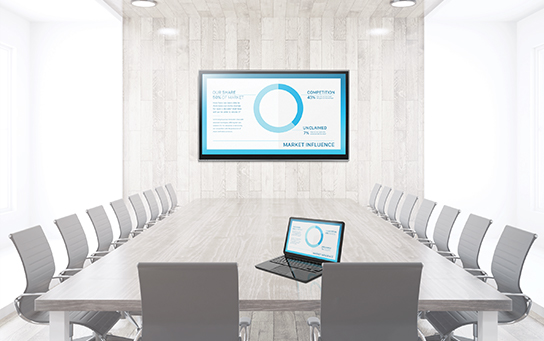 Scheduling Where You Need It
The modern workplace is fast-paced, flexible, and dispersed. You need a scheduling platform that not only keeps up with you, but makes everyone more efficient, connected, and collaborative across all spaces while meeting your booking requirements. Crestron makes it simple and convenient to locate and book available meeting spaces from wherever you are; on your mobile, outside the room, or inside the room. The system directly connects to Microsoft Exchange, Office 365, and G Suite™ software, so people can book rooms on the spot. And the system is intelligent enough to return rooms to inventory when employees no-show, thereby optimizing usage. When spaces aren't in use, you can even repurpose the displays for digital signage via Appspace.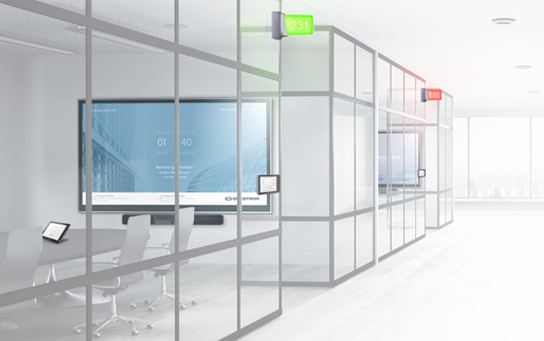 Crestron XiO Cloud IOT-Based Platform
Winner of the 2018 Microsoft Global Partner of the Year Award for IoT, Crestron XiO Cloud is a revolutionary IoT-based service that enables you to securely deploy, proactively manage, monitor, and evolve workplace technology anywhere in the world through a standard web browser, and reduce associated complexities. Hosted on the Microsoft Azure® IoT platform, and natively built into Crestron products, Crestron XiO Cloud delivers up to 90% reductions in installation time and dramatic improvements in device uptime. Most routine maintenance tasks, such as logo updates, can be performed from anywhere, automatically. Data gathered by Crestron XiO Cloud enables you to match new technology investments to actual usage and optimize your budgets.
Let's get started!  Contact a Ford AV technology specialist.